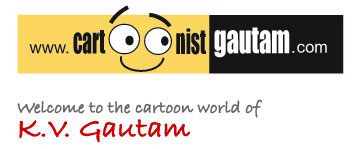 Website of the Award-Winning Indian cartoonist K V Gautam, based in New Delhi, India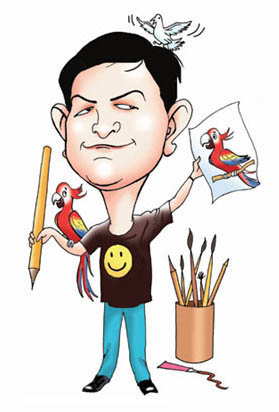 Award-winning cartoonist K V Gautam has worked as a political cartoonist for leading newspapers like Hindustan Times, Dainik Jagran and Indian Nation. He has illustrated more than 50 books. He has appeared in several prime-time shows of leading TV channels and has been covered by national media. He has been invited as a guest by prestigious institutions like IIT Kanpur, Delhi University, BITS Pilani, and Anna University. He is also author of best-selling novel Love in Crazy Times and motivational book Impossible is Fun. He is also known as a motivational speaker.
K V Gautam had started to draw cartoons right from his early childhood. A self-taught cartoonist, he got his cartoons published in several journals including fortnightly Khojbin and monthly Cartoon Watch, while he was still in school. He has been a graduate in Economics, post graduate in Mass Communications and an MBA in Marketing by education.
K V Gautam started his career as a political cartoonist with the daily Dainik Jagran. He was known for his sharp comments on the current political and social issues of the nation. He later worked for other newspapers like the Hindustan Times, the Indian Nation, Aaj and Aryavarta.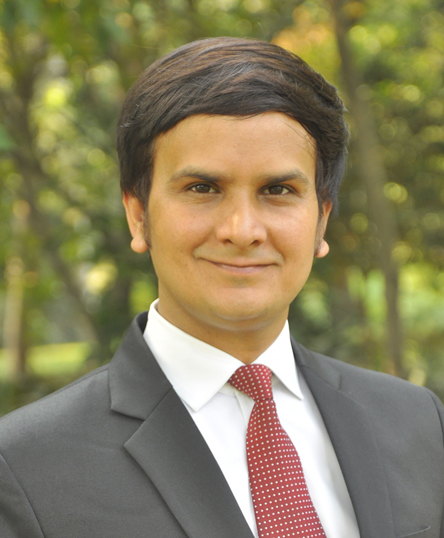 K V Gautam has been an illustrator of several books on sports, biographies, cinema and management. He illustrated '2003: World Cup Cricket: Action Replay 1983?, a book which became a best-seller within days of its launch. He later drew illustrations for the coffee-table book 'The Eternal Saga of Love: Devdas.' He has illustrated a series of biographies of celebrities, published by Pentagon Paperbacks based in New Delhi. The celebrities, whose biographies were published, included A P J Abdul Kalam, Dhirubhai Ambani, A B Vajpayee, Ratan Tata, NR Narayana Murthy, Sachin Tendulkar, Kapil Dev, Amitabh Bachchan and Azim Premji. He drew caricatures of several travel trade personalities for The World of Travel & Tourism magazine. His recent work includes drawing cartoons for the job site Naukriindia.com and illustrating 'The Power of Humor at the Workplace,' a book written by K Sathyanarayana.
Awards:
K V Gautam has been given several awards by various institutions. He was given Sanjeevni Bhushan Award by Sanjeevni TV group in New Delhi on 13 August 2017. He was given the First Prize in the Poster Contest on the theme of population control, organized by the Population Education Fund of the State Government in 1994. He was awarded with Certificate of Merit in the national contest of International Poster Contest – 1993 on the theme of Population and Our World, jointly organized by the United Nations Population Fund (UNFPA) and the National Council of Educational Research & Training (NCERT).
Documentary film:
KV Gautam has been the subject of a major documentary film Comic Fingers. The documentary film got rave reviews and was screened at 16 international film festivals in the year 2016.
Below is Comic Fingers, the documentary film based on life of KV Gautam:
TED Talk:
K. V. Gautam was invited to deliver a speech at a high-profile TED event at TEDx JUIT at Solan, Himachal Pradesh on 24 August 2014.
Sanjeevni Bhushan Award:
K. V. Gautam was given Sanjeevni Bhushan Award by Sanjeevni TV group in New Delhi on 13 August 2017.
Cartoon Workshops & Honours:
Cartoon Workshop at IIT Kanpur
Invited as a guest by IIT Kanpur, a premier engineering college in India, to conduct a cartoon workshop in October 2009.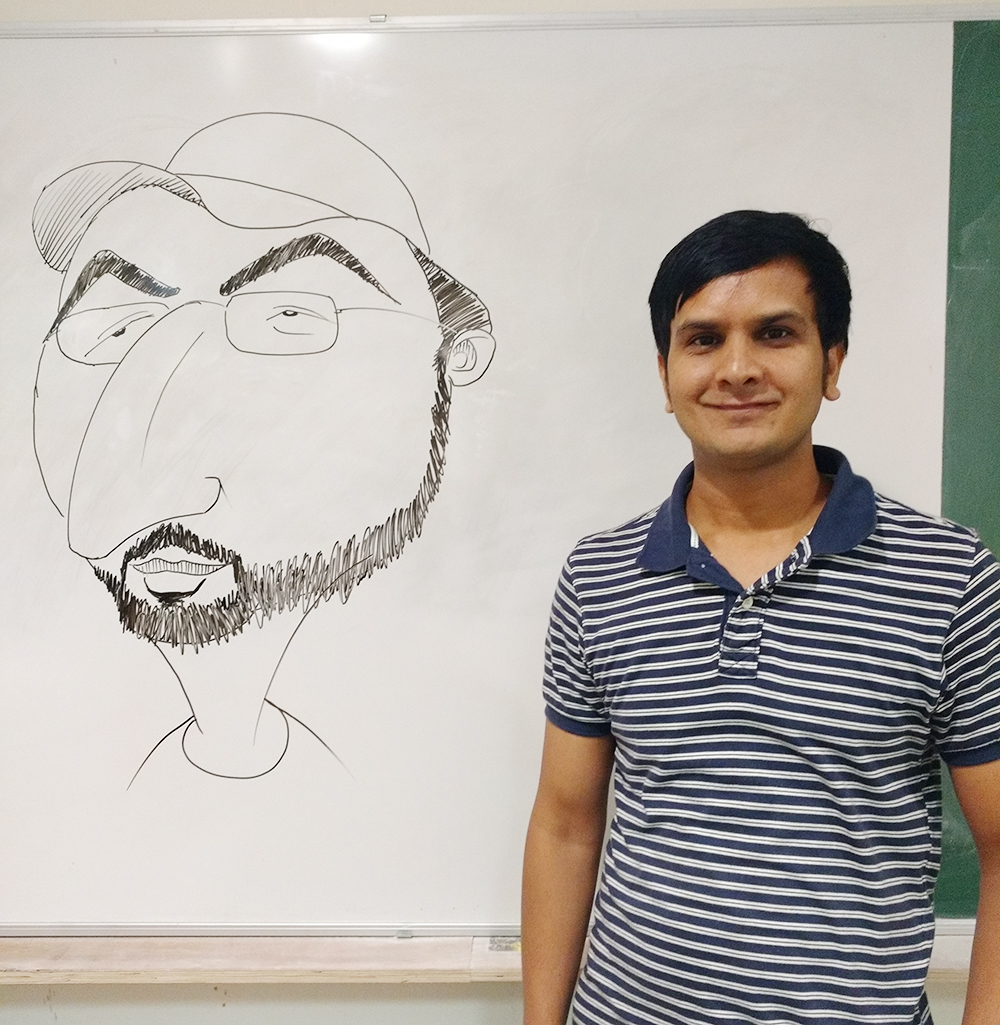 Click here to see more pictures of the workshop.
Invited as a Guest by VIT University, Vellore
Gautam was invited as a guest by VIT University, Vellore, Tamil Nadu for their annual cultural festival from 7 Feb to 8 Feb 2015. He delivered a speech and conducted a cartoon workshop.
Click here to see more pictures of the workshop.
Distributing Prizes to Students at Salwan Public School
Invited by Salwan Public School, Mayur Vihar, Delhi, to distribute prizes to students at inter-school competitions in November 2011. Forty schools participated in various events.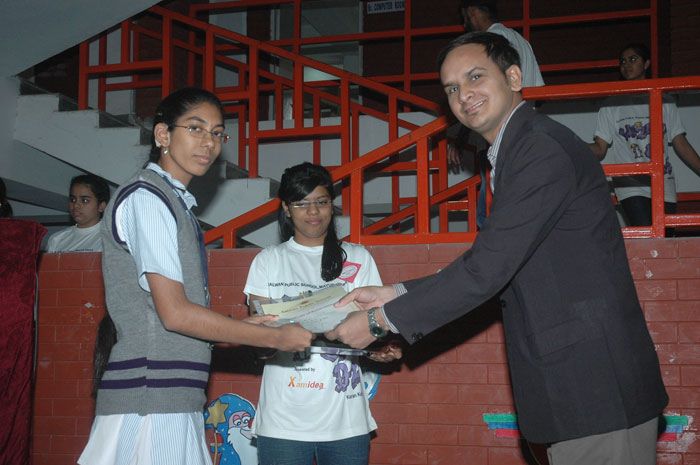 Click here to see more pictures of the event.
Invited as a Guest by Anna University, Chennai
Got invited as a guest by Anna University, Chennai. I taught students how to draw cartoons and caricatures, and judged and distributed prize in a cartoon contest in February 2012.
Click here to see more pictures of the event.
Invited for Cartoon Workshop by Delhi University
Was invited for Cartoon Workshop by St. Stephen's College, Delhi University on 25 September 2012. Conducted a cartoon workshop and judged and gave prizes in a cartoon and caricature contest.
Click here to see more pictures of the event.
K V Gautam was invited to judge a cartoon contest named Toonsville at St. Stephen's College of Delhi University on 19 February 2012.
Gautam conducted a cartoon workshop at Gateway College of Architecture and Design in Sonepat, Haryana on 29 March 2014
He conducted a cartoon workshop at Institute of Architecture & Design, Hisar, Haryana on 20 March 2014
Bigg Boss offer:
KV Gautam had been offered role of a celebrity contestant in the popular TV show Bigg Boss in the 10th season in September 2016. However, he did not accept the offer as he felt it did not suit his public image or personal temperament. The rejection of offer got lots of publicity and coverage from the leading media houses and TV channels for Gautam.
Media coverage:
As a celebrity, KV Gautam has been covered by leading media houses and TV channels like the Indian Express, DNA, Dainik Jagran, ABP News, India TV, Zee TV, Sahara Samay, Bombay Times and Firstpost.
KV Gautam was invited to share his views as a panelist on TV news channel NewsX on its program Speak Out India on 14 May 2012. The program was about a controversy on a cartoon about Bhimrao Ambedkar. He has also appeared on TV shows of Headlines Today and Live India channels.
Gautam has also been featured by current affairs magazine Tehelka, national public radio broadcaster All India Radio and leading websites like Santabanta.com, Merinews.com and Techgoss.com.
Caricatures by K V Gautam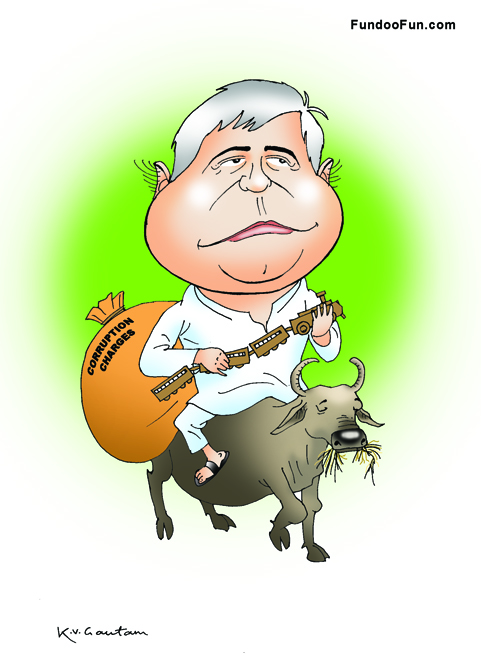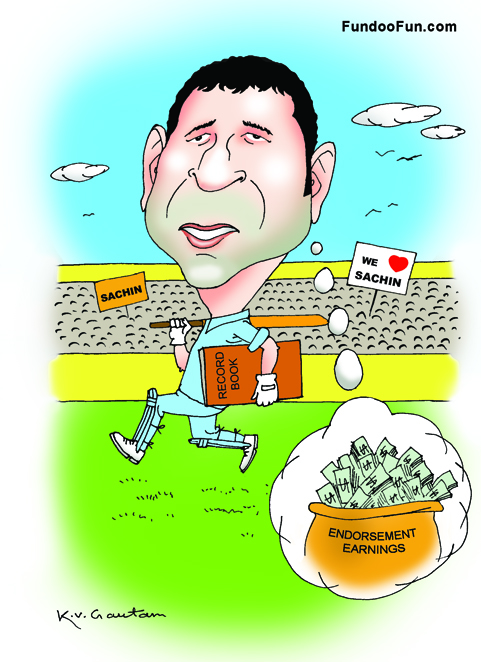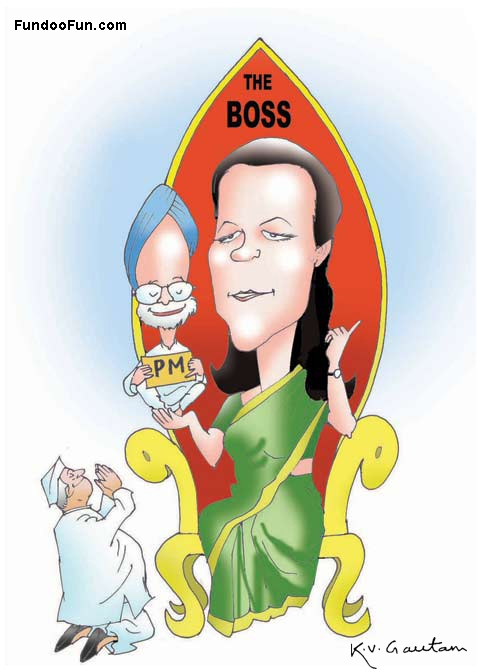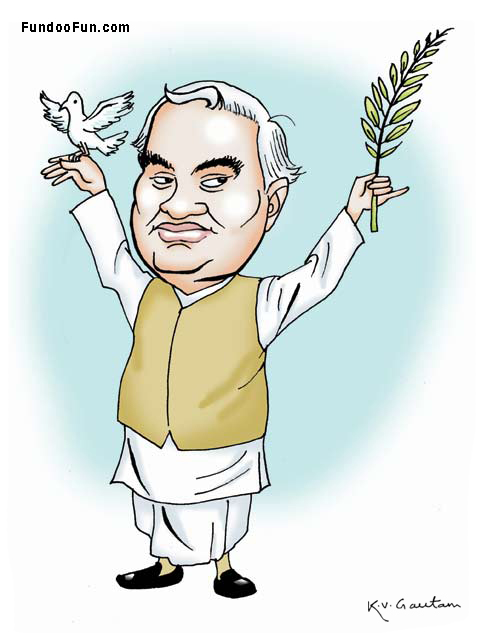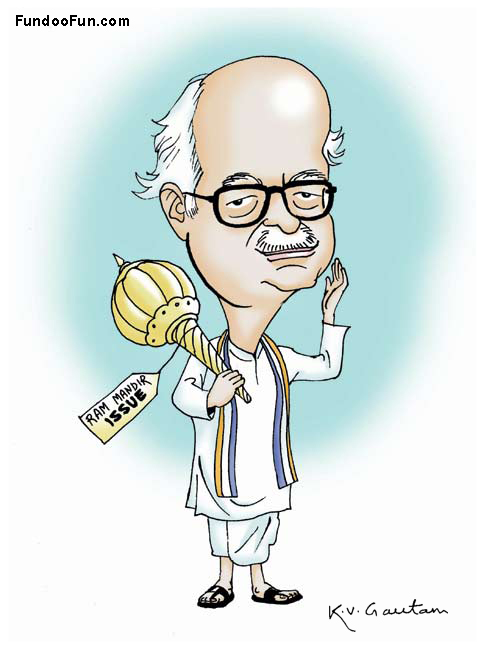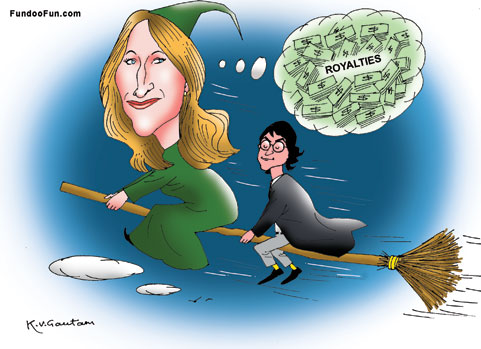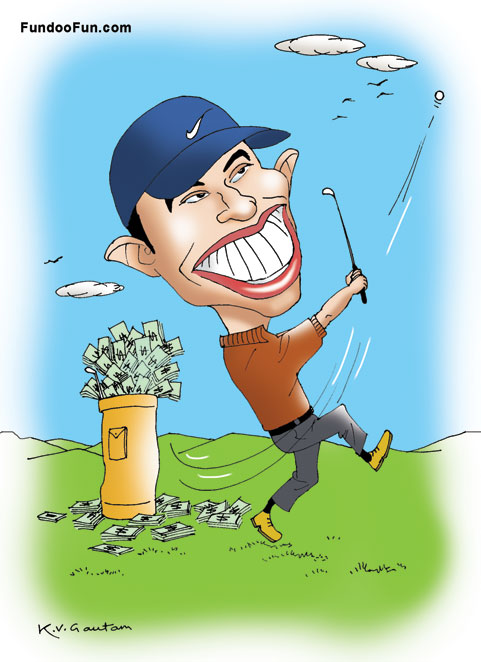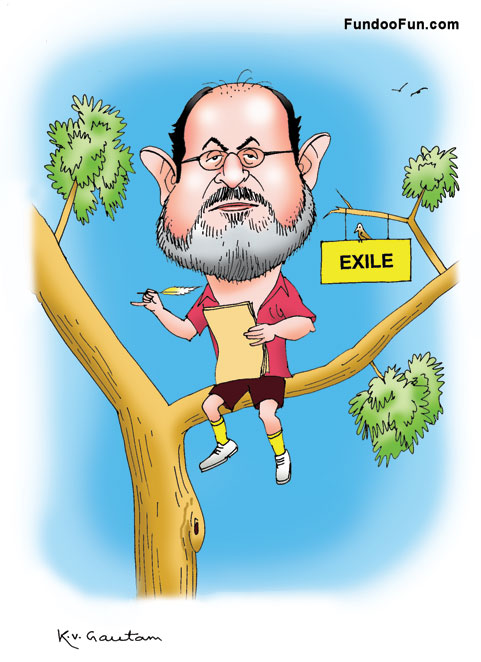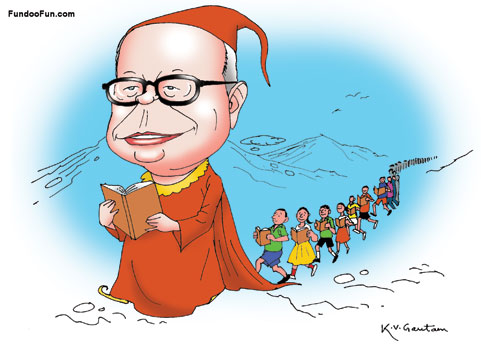 Cartoons by K V Gautam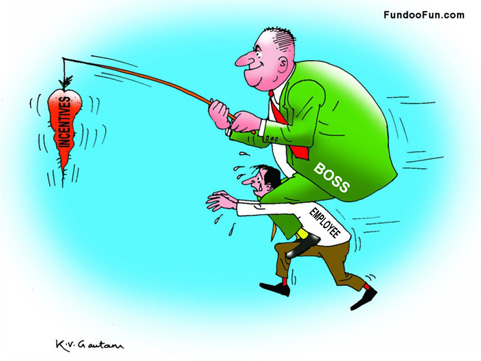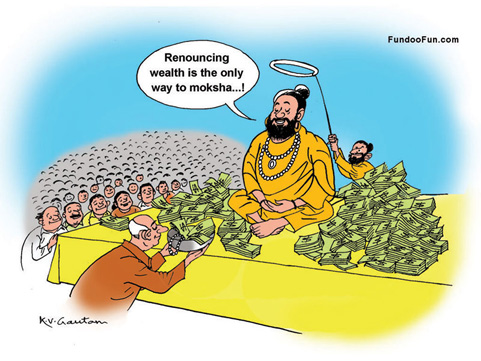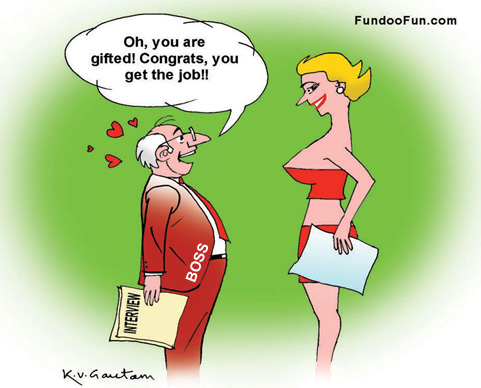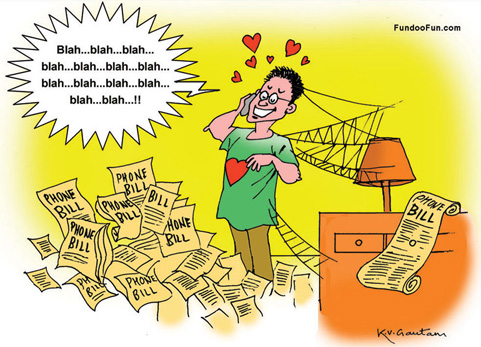 About the Art of Cartooning
Cartooning is a creative art form. A cartoon is a humorous drawing of a person or an object. A variation of a cartoon is a caricature. A caricature is a humorous drawing of a person. It exaggerates physical features of a person. Cartoon is a highly popular art form worldwide. It is an integral part of newspapers, magazines and the animation industry worldwide. A person who draws a cartoon is known as a cartoonist.
The word cartoon is derived from the Italian word 'cartone' and Dutch word 'karton', both meaning strong and heavy paper. In the earliest times, a cartoon was a drawing made on sturdy paper as a study for a painting or tapestry. Even famous painters such as Leonardo da Vinci used to make cartoons before making their painting. Later the word cartoon started to be used for a piece of art, which was humorous in intent. This trend was started by famous satirical magazine Punch in 1843. Punch magazine popularized the art of cartooning worldwide by starting to publish satirical and humorous drawings. Later all newspapers started to publish cartoons satirical of current affairs. They also started to publish comic scripts, which were eagerly read by their loyal readers.
Cartoons are popular worldwide. Almost all developed nations have practicing cartoonists working for newspapers and magazines. All major newspapers employ political cartoonists who make comments on the current affairs using their incisive art form. There are cartoonists who create comic scripts that are read worldwide in thousands of newspapers. These cartoonists have worldwide fans, who read the comic scripts daily. Newspapers are seeing tough time ahead in developed nations due to growth of online media. However the art of cartoon is flourishing as ever. The Internet and animation industries are employing several cartoonists. Some cartoonists work full time illustrating books written on several subjects.
The art of cartoon is flourishing in India. The country has seen several prominent cartoonists who have practiced the art in the country. Political cartoons are published in both English and regional language newspapers. Indian newspaper readers love cartoons and eagerly follow cartoons drawn by their favorite cartoonists. These days some newspaper editors ignore the value of a cartoon as they try to dumb down newspaper content to compete with content of TV news channels. They will repent later when circulation of their newspapers will go down gradually. The growth of the Internet industry has given a new medium to cartoonists to reach out to their fans. There are several websites that promote good quality cartoons and help in the popularity and growth of the art.
The Indian animation industry has also employed lots of budding cartoonists. The industry has grown and created some marvelous cartoon films for both Indian and foreign media companies.
Contact
Email: kvgautam@gmail.com
Phone: +91-9811952340
Address: G-26A, 2nd Floor, Street No. 2, Shakarpur, Delhi -110092